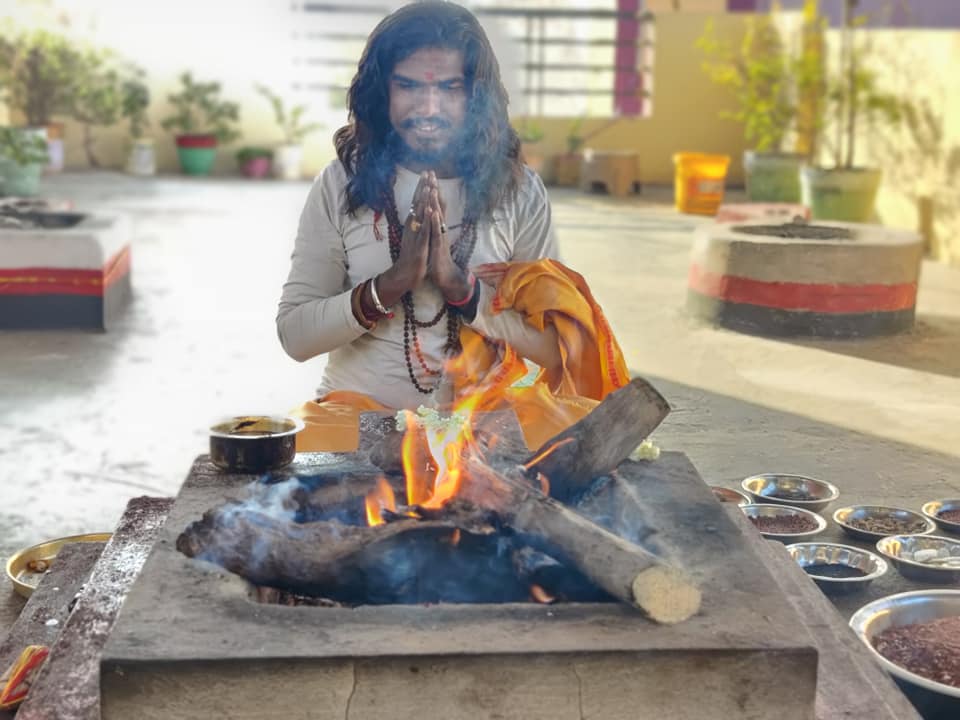 Baglamukhi Havan
We perform baglamukhi homam on special request. Different havan samagri is used for baglamukhi havan for different type of problems.Mother sparrows kill the wicked Troublesome times, communicate new consciousness. In her meditation or prayer, faith and faith are infinite, only then will the auspicious vision of her be upon you. By worshiping them you can do whatever you want in life. Most of their worship is nowadays Politicians make rituals in winning elections and defeating their enemies. Worshiping them can never be defeated by the enemy, but it can lead to arbitrary suffering. Brahmacharya is essential when worshiping them (rituals).

The simplest way is to offer Mother's worship to the households. You can get quick results by doing this. If the ritual of any goddess (Sadhana) starts to start, then the first auspicious hand, auspicious day, auspicious place, a clean clothes, a new pot of worship, a quiet mind without any deceit, They can begin this practice by pledging content such as celibacy. Remember, if you are very poor, then only with yellow flowers, yellow cloth, turmeric 108 grain beads and lamp lighting, keeping the statue of the mother, the instrument etc., the pure seat blanket, Kusha or Anyone who is deceitful can sit on it and worship the mother and receive blessings. For the worship of Mother Magalloomi, when gathering material and sitting on the pure seat (north facing) then keep in mind two things: first, that there should be Siddhasan or Padmasan, while chanting, do not touch the feet of the feet and the intangible places. The body should be strangled and the head should also be located. After this sprinkle with the Ganges water (on self), read this mantra - Aphitr: holy or universal body, y: Smriti, Pundari Kakshasan External Existence: Shuchi. After that, take a chant with this right from the mantra - Keshay Namah, Narayanaya Namah, Madhyava Namah. Lastly, the heart of the heart should be said to wash.

After this, studying Gayatri Mantra, do three times pranayama. Tie the peak and tilak. Now lit the worship lamp. Then meditate on the disinfectant Ganpati. Remember the meditation or mantra associated with the Deity-god is the contact number. As soon as you chant the mantra, your call immediately comes to that goddess. Therefore the mantra should be read purely. Without the utterance of the mantra, no fruit will be found, but there will be no harm. That is why keep special attention on pronunciation. Now after you Ganesh ji, all the Goddess-Goddesses, Vaastu, Navagraha Taking blessings from God and devotion to Goddess Devi-Devtadi, taking the blessings of Valga (Banglakumi), killing the enemies by taking water in the right hand; Read the verse Sri Bagalakshmi Mantra Narada Rishi: Trishruppunch: Baglakshma Deity, Helimbijam Swaha Shakti : Zip Appropriate: (Water down the water). Now meditate on the mother, remembering all the puja should be turmeric and yellow flowers essentially.